Career
Associate Professor (in polish Adiunkt) in the Department Hydrology and Hydrodynamics
CITY : Warsaw
POSITION: Associate Professor (in polish Adiunkt) in the Department Hydrology and Hydrodynamics
DISCIPLINE: Earth Sciences, Geophysics
POSTED: 6th of November 2018
EXPIRES: 20th of November 2018
KEY WORDS: Hydraulics, Vegetated Channels, Geophysics, Earth Sciences, Associate Professor
DESCRIPTION (field, expectations, comments):
The main area of research is within environmental hydraulics, namely turbulent open channel flow with an emphasis on the interaction mechanisms between plants and flow structures. The Postdoc will be involved in the work connected with different aspects of biomechanical properties of aquatic vegetation in flowing waters. This will be a combination of field, experimental, computational and theoretical research.
QUALIFICATIONS REQUIRED: The successful applicant must have a strong background in hydraulic engineering or fluid mechanics and a PhD degree in Civil Engineering or equivalent.
The candidate should have experience in interpreting results from laboratory tests and field measurements. We are looking for a person with proficiency in using mathematical models to analyse environmental data. Programming skill is required, i.e. knowledge of basic programming languages: e.g. Matlab, Fortran, C ++.
Advantageously the successful applicant should have knowledge of:
1) equipment used in the Department, i.e. bench‐top testing machine, ADCP flow meter, ADV Vectrino Profiler and oxygen probes;
2) software, e.g. HEC-HMS, QGIS / ArcGIS, Horizon.
Candidates must be fluent in spoken as well as written English.
Required documents:
1. CV - with particular emphasis on scientific achievements
2. Cover Letter
3. The document confirming obtaining scientific title of PhD (in polish doktor) degree
4. List of publications
5. List of educational achievements of the Candidate.
6. Other documents which are vital to the case (at the discretion of the Candidate).
Application for the competition must be submitted by 20th of November 2018 kariera@igf.edu.pl or post by post to: Human Resources Department of the Institute of Geophysics, ul. Księcia Janusza 64, 01-452 Warsaw with the note "Contest for Associate Professor ".
Aplikuj
Ph.D. position within the National Science Center project- Hydrology and Hydrodynamics Department
The PhD position is offered by the Institute of Geophysics, Polish Academy of Sciences within the National Science Center of Poland project i.e. Hindcasting and projections of hydro-climatic conditions of Southern Spitsbergen.

The main focus of the PhD will be an analysis of rainfall-runoff processes in the Arctic catchments located in South Spitsbergen, the largest island of the Svalbard archipelago. The behavior of river catchments, in conjunction with glaciers, permafrost and biotic elements, is undoubtedly one of the most important indicators of climate and environmental change in the Arctic. The main aim will be an updated water-balance study based on meteorological, hydrological, and glacier mass-balance monitoring from previous years and projections for the future. Due to complexity of cold region hydrological systems, a catchment response can vary depending not only on climate forcing but also on catchment properties including: the state and distribution of permafrost, water storage capacity, glacial coverage, soil properties, elevation, and geomorphology.

He/She should have a Master of Science Degree or equivalent qualification in hydrology, climatology or a closely related discipline.

The ideal candidate should be familiar with hydrological measurements, remote sensing methods, statistical data analysis, and be familiar with programming (MATLAB, R) and GIS (e.g. ArcGis).

The candidate will be expected to work partially in the Arctic. He/she will be expected to attend at least one international conference per year, so fluent English is obligatory. All general enquiries and formal applications including: letter of motivation, current CV, copies of certificates, list of courses with grades taken during MSc and BSc studies, (all in Polish or English) should be send to Dr Osuch (marz@igf.edu.pl).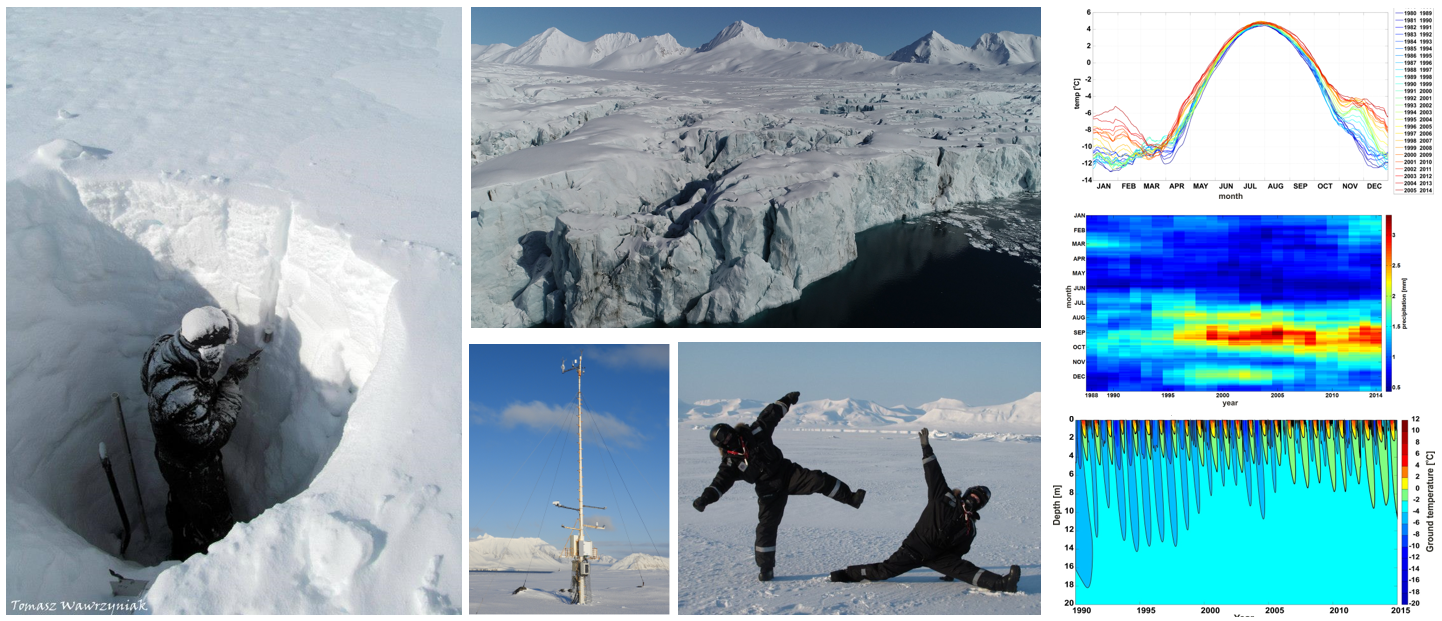 Aplikuj