Institute
THE INSTITUTE OF GEOPHYSICS IS A SCIENTIFIC UNIT
OF THE POLISH ACADEMY OF SCIENCES
THAT CONDUCTS SCIENCE AND RESEARCH ACTIVITIES
IN THE FIELD OF GEOPHYSICAL SCIENCES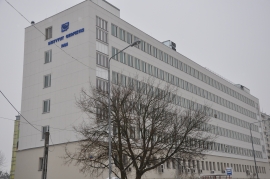 The main statutory tasks of the Institute include scientific research, development, monitoring and educational activities, as well as dissemination of the results of the research and their implementation in the economy.
An important objective of the activity of the Institute of Geophysics, Polish Academy of Sciences, is supporting people beginning their scientific careers and education and development of research workers and specialists with particular skills in the field of geophysical sciences, as well as to anticipate hazards, perform risk assessments and manage crisis situations.
The Institute also conducts extensive cooperation with universities, research institutes and scientific associations, particularly in the field of research and development works. We also ensure the continuous development of international scientific cooperation through creation of research consortia and conduct of joint research projects with foreign partners.
THE MISSION OF THE INSTITUTE OF GEOPHYSICS
Studying geophysical processes for better understanding of the mechanisms controlling the Earth's system and risk management

Working for the benefit of the society and economic development
Development and maintenance of strategic research infrastructure
Geophysical monitoring
Training future leaders of the scientific community