Webinar on Methods for Ecohydraulics: Remote Sensing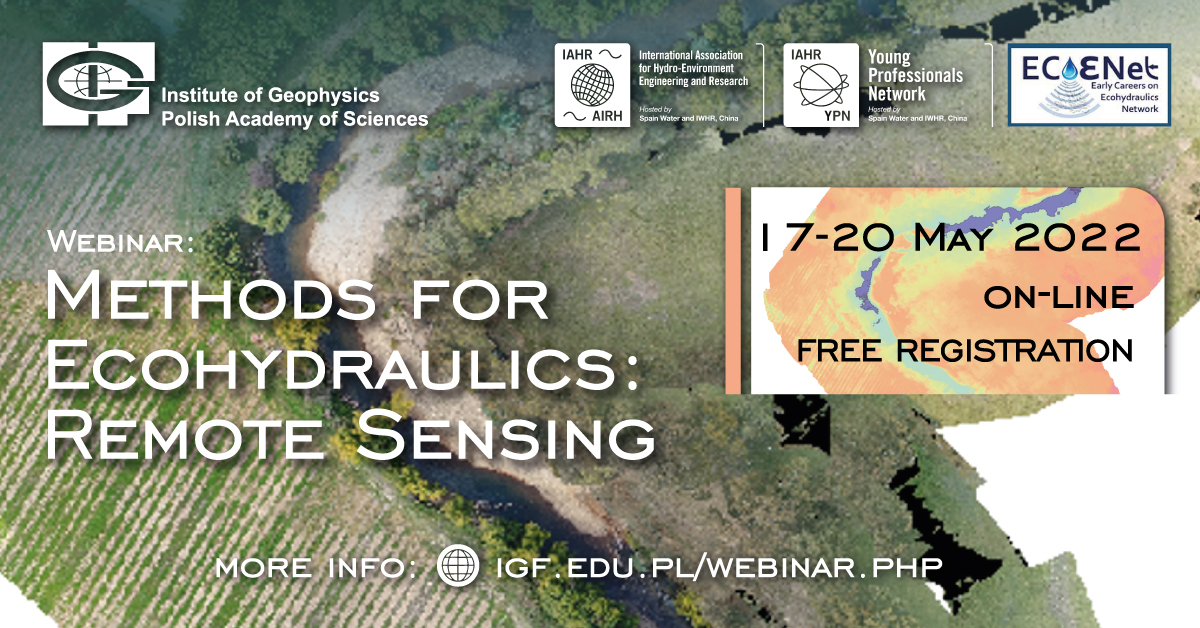 Introduction
Habitat modeling has become a necessary tool in evaluating the status of water environments and to support the development of strategies and plans for improving their ecological status, guaranteeing ecological benefits and reducing anthropogenic effects. Despite the rapid growth of numerical models, both hydraulics (hydraulic and morphological models) and biological (e.g., bio-energetic and individual based models) modeling, their application to fluvial systems is hindered by a lack of supporting data at spatial scales larger than a single reach (10-20 channel width) or at temporal scale beyond steady state or single event and data necessary for model performance evaluation.
Recent advances especially in remote sensing may help to address this data needs. These advances may include but not limited to technique using satellite and airborne devices (e.g., topobathymetric surveys, discharge, water surface elevation, water temperature and surface velocity, organisms' distribution including vegetation, fish and macro-invertebrate) and or telemetry.
This free webinar will be held on May 17-20, 2022, between 16.00 and 20.00 CET.
Through keynote lectures and technical sessions, this event aims to provide the audience with examples of novel and innovative tools for monitoring the physical and biological characteristics of water systems across spatio-temporal scales. Besides keynote lectures and technical sessions, daily roundtable discussions will further discuss such themes, to foster transdisciplinary collaborations.
We encourage contributions that describe novel and innovative remote sensing techniques to monitor biotic and abiotic quantities in water environments. The contributions should focus on methods rather than on specific scientific findings.
Selected abstracts will be invited to submit a full paper for a Special Issue on the Journal of Ecohydraulics. All the contributions will undergo the normal submission process, as per the Journal guidelines. Please check the Call for Papers.

Congress Themes
Contributions should focus on advancements in techniques and methods, focusing on topics such as:
Earth's surface

Topo-bathymetry

Terrestrial and aquatic alluvium

Large bed elements and bedrock features

Change detection

Natural and anthropogenic radioactivity

Hydraulics and morphodynamics

Discharge

Water surface elevation

Surface velocity pattern

Water temperature

Turbidity & suspended sediment

Transport of suspended matter

Flora

Riparian vegetation

Aquatic vegetation

Algae blooms

Streamwood

Fauna

Habitat

Macrozoobenthos

Organism movement & behaviour

Management

Aquatic assessment

Restoration and nature-based solutions

Hydropower and hydropeaking

Environmental flows

Sediment continuity
​Key dates
1 January 2022: Call for abstracts opens

15 March 2022: Call for abstracts closes

31 March 2022: Notification of acceptance

15 April 2022: Final abstract submission

17-20 May 2022: Webinar
Call for abstracts and guidelines
The extended abstract must be submitted by March 15, 2022, through the EasyChair online submission system, using the Word template.
The extended abstract must be maximum 850-1000 words (including a short abstract of 150 words and a maximum of 5 keywords). All abstracts must be submitted in English.
​Keynote Speakers
Stephen J. Dugdale, University of Nottingham, UK

Antoin O'Sullivan, University of New Brunswick, Canada

Knut Alfredsen, Norwegian University of Science and Technology, Norway

Nicholas Porter, Biomark Merck Animal Health, USA
Webinar Proceedings & Recordings
The proceedings of the webinar can be found in the Publications of the Institute of Geophysics PAS.
The webinar recordings are available on the IAHR Video LIbrary.
Organizing Committee
Michael Nones, Institute of Geophysics PAS, Poland

Daniele Tonina, University of Idaho, Centre for Ecohydraulics Research, USA - IAHR Ecohydraulics LT

Agata Keller, Warsaw University of Life Sciences, Poland – YPN Poland

Roser Casas-Mulet, Technical University of Munich, Germany - IAHR Ecohydraulics LT

Baptiste Marteau, CNRS, France - ECoENet

Rafael O. Tinoco, University of Illinois at Urbana-Champaign, USA - IAHR Ecohydraulics LT
International Scientific Committee
Jochen Aberle, TU Braunschweig, Germany

Kaisa

Västilä, Aalto University School of Engineering, Finland

Maria Nicolina Papa, University of Salerno, Italy

Markus Noack, Hochschule Karlsruhe, Germany

Paolo Paron, IHE Delft, The Netherlands

Richard Boothroyd, University of Glasgow, UK

Senlin Zhu, Yangzhou University, China

Stefan Haun, University of Stuttgart, Germany

Serhat Kucucali, Hacettepe University, Turkey
Advisory Board
Davide Vanzo, ETH Zurich, Switzerland - IAHR Ecohydraulics LT

Gregory Pasternack, University of California, USA - IAHR Ecohydraulics LT

Michael Stewardson, University of Melbourne, Australia - IAHR Ecohydraulics LT

Shinji Fukuda, Tokyo University of Agriculture and Technology, Japan
​Registration
The webinar will be held online on May 17-20, between 16.00-20.00 CET. Addiitonal information on the final programme and the platform will be available at a later stages .
The registration is free of charge!. Take your ticket.
The webinar background can be downloaded here.
More information
For additional information, please contact Michael Nones (mnones@igf.edu.pl).
General Data Protection Regulation (GDPR)
Please note that the webinar will be recorded. By registering to the webinar, I grant my consent to the processing of my personal data including name and surname, contact telephone number and e-mail address by the Institute of Geophysics of the Polish Academy of Sciences, ul. Księcia Janusza 64, 01-452 Warszawa, for the purposes related to the participation in the webinar "Methods for Ecohydraulics: Remote Sensing". At the same time, by participating in the webinar, I grant my consent for the unlimited use of my image, recorded during the webinar with the use of video and sound recording devices, to be published in whole or in part on IG PAS webpage and social media profiles, as well as to be uploaded in the IAHR video library, in accordance with the Regulation (EU) 2016/679 of the European Parliament and of the Council of 27 April 2016 on the protection of natural persons with regard to the processing of personal data and on the free movement of such data, and repealing Directive 95/46/EC (General Data Protection Regulation, GDPR) (OJ L 119/1, 04.05.2016).